ClayFighter: Call of Putty was an unreleased game for the Nintendo DSi and Wii. The game was going to be a remake of ClayFighter: Sculptor's Cut, with the same characters and stages, although much of the stages got redesigns. It was supposed to include a story mode, a training mode, and multiplayer mode where up to two players can fight, and Claytalities. The game's was planned to release in 2011 for DsiWare and WiiWare. However, the game never saw the light of day. It was presumably cancelled for the same reason as the unreleased 2016 Game.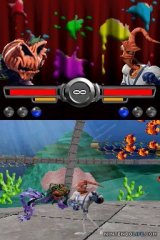 Characters
Edit
This game would have been the only ClayFighter game with a release on a handheld gaming system.
Community content is available under
CC-BY-SA
unless otherwise noted.