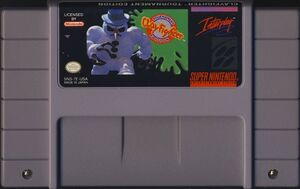 ClayFighter: Tournament Edition is an updated version of the original ClayFighter, exclusively for the Super Nintendo Entertainment System, presented as an exclusive rental-only deal with Blockbuster Video in North America.
Changes
[
]
Having an update in the fighting genre isn't uncommon, but unlike other fighting game updates, this has all the characters from before. Just a few glitches and minor changes.
The range on Bad Mr. Frosty's Big arm sideswipe is shorter.
A tournament mode was added.
Glitch to play as N. Boss removed.
The stages were changed.
Intro was longer (and explained things way better).
The Blob lost a move.
New palettes were added.
New difficulty settings.
New speed options.
New versus modes.
New problems:
Bonker's Butt dive does nothing.
Secrets:
Videos
[
]