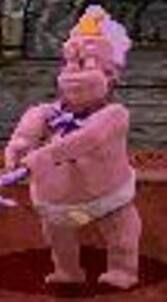 Googoo is a large baby from C2: Judgement Clay. As a very ghetto guy, he plays pool and chills with the ladies. His evil counterpart is Spike. His stage is The Crib.
Bio
[
]
Goo Goo's first words were censored. So were almost all the rest of his words. Nobody knows where his foul mouth came from, but there's a strong belief it had something to do with spending most of his free time(well all of it) at the local pool hall.
Besides shooting a mean game of pool, Goo Goo loves milk and women, not necessarily in that order. Just ask his ex pre-school teacher. She didn't want to expel him, but what would you do if a toddler kept inviting you back to his playpen for a nightcap?
Quotes when he beats you
[
]
"Do you want your blankie?"
"This is my crib. Get out!"
Ending
[
]
As grand master of mudville, Googoo provided public nap centers for all mudvillians. The well rested public were soon much friendlier, and mudville soon became a much happier place. It also became a much noisier place due to the sharp rise in public snoring.
Moves
[
]
Rambutt: Half Stick Foward, Kick
Bottle throw: Crouch Foward, Punch
Diaper uppercut: Foward, Down, Foward Punch
Theme
[
]