The Ice Breath is a projec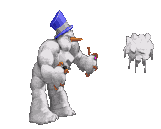 tile used by
Bad Mr. Frosty
in
ClayFighter
and
C2: Judgement Clay
. He spits a ball of sharp ice at the opponent. This is a half circle. Just in case you don't know what that is, it's where you take your thumb, put it on the forward or backward directional button, then slide it to the other side while touching the down direction, creating a half circle (hence the title). For this move, you have to press forward, than half circle to back and punch (any strength will do).
Community content is available under
CC-BY-SA
unless otherwise noted.