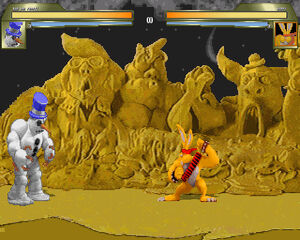 Mount Mushmore is a stage in C2: Judgement Clay. The stage belongs to no one in particular, but is given to a random character that you have fought already before fighting your characters boss. The clock in this arena is a banana, just like Bungle Jungle.
This stage is obviously a parody of Mount Rushmore, but upon further analysis, the four characters can be identified. It has an Elvis impersonator, an unattractive woman, a candyman, and a clown; the characters that were not in this sequel (save for Ickybod Clay). It also appears to be nighttime; not exactly the place for looking at the stars, considering the eerie statues block most of the sky. The ground is also very mushy, like its name.
Community content is available under
CC-BY-SA
unless otherwise noted.