Octohead

Octohead's mugshot

Likes

Partying

hates

Stage
Octohead
is a purple octopus-like creature who loves to party! He has a total of eight tentacles; four on his head, two on his sides that he uses as arms, and two on the bottom that he uses as feet. His first and only

appearance was in
C2: Judgement Clay
.
To say Octo is hyper would be like saying the Blob Monster is big. The guy has enough energy to light the island of Manhattan. And what does he do with all his energy? Paaaaaaarty! No doubt about it, Octo is the original party animal! Just give him a special occasion, and he's out there cutting loose with the best of 'em. Only thing is, almost any occasion will do. The sun came out today? "Let's party!" Octo has since turned his energy towards combat training, and with all those tentacles, and all that energy, Octo is a force to be reckoned with.
Win quotes
Edit
"Don't mess with me, eh!"
When Octohead became grand master of mudville, he turned the land into the beach party capital of the world. Of course, he first he had to build a beach. To kick things off, he invited 24 locals to a private bash aboard his surfboard.
Octo spin
-hold back, then press forward and punch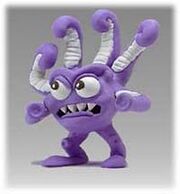 Octo punch- Hold back, down, diagonal back down and punch.
Breakdance spin-Forward, down, back, kick